The Oaxaca Guerreros vs. Veracruz Diablos AAA Baseball game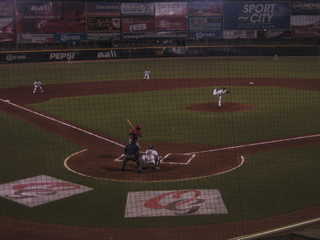 One of the things that we had wanted to do ever since we arrived in Mexico was to see a Mexican Baseball game. We would have liked to see a Mexican AAA game in Mazatlan, but the team was out of town while we were there. We did get to see some games on T.V., but still, one of our "checkmark" items was to see a live game sometime on the trip.
Therefore, we were thrilled when we found out that the Oaxaca AAA team would be having a home stand while we were visiting the city. So on Friday night we took a cab over to the ballpark and got the best tickets available, right behind home plate. It was only $5.25 for two tickets, as it was ladies night, and ladies got in for 25 cents when accompanied by a full paying ticket!
It was great fun. We arrived early as the opposing team was taking batting practice. While we were watching, there was a great BOOM and a huge shower of sparks about 100 feet away from us. We thought it was fireworks for a second, but then we realized that a power transformer for the lights had exploded! LOL. They fixed it as we got ourselves a couple of beers and waited for the game to begin, watching music videos. The stadium was very pretty and the evening was nice and warm, cooling down noticably after the hot afternoon sun had set.
The family crowd trickled in until the stadium was respectfully full (~6,000). There were a few Veracruz Diablos fans, but most of the people were there to root for the hometown Guerreros. Before we knew it, it was 6:00 and the announcer said (in English) "Play Ball!". No national anthem, no speeches, just "Play Ball!", and the first pitch was thrown. There were some former USA professionals playing, but most of the teams seemed to be made up of Mexican, Dominican, Venezuelan, and Puerto Rican players.
We rooted for the home team along with everyone else, and though my ability to hurl insults in Spanish is somewhat limited, I was able to shout out a few times without feeling too stupid. Like "Azul, Azul" (Spanish for "Blue") when the umpire would make a bad call, and so on. The Guerreros took an early lead, scoring two runs in the first after shutting down Veracruz in the top of the inning. We had a few more beers(Coronas lugged about in iced buckets)and some ballpark nachos as the lead went back and forth a few times until about the 6th inning when Oaxaca seemed to kind of fall apart, and Veracruz took a 4 run lead, which lasted to the end of the game. Everyone stood for the 7th inning stretch, and sang the team song. There was a Guerreros "Chicken" clown, crowd game of "dizzy bat" race to the T-shirts, and cheerleaders, as well as singular raucous fans with newyears-style noisemakers, and taunts. We stayed until the last out, sad that "our" hometown team had lost.