Goodbye Acapulco!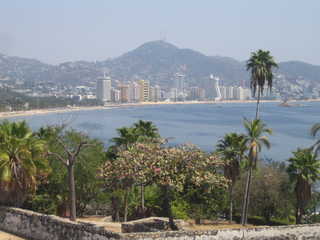 We had other neat experiences in Acapulco. I got to go over and see Tony's boat, VOYAGER, a fine 51' Formosa Ketch. He was trying to get it ready, either to sell, or to make a voyage thru the Panama Canal and across the Atlantic to his home in Rome, which he has not seen in 6 years.
We also met a delightful young Dutch couple, Paul and Anne, on a small ferro cement boat named FREE SPIRIT. They had just bought the boat in November in SF, and were planning on crossing the Pacific in it. They had a host of small problems for which I was able to loan them a lightbulb they needed and sold them, for cheap, a new halyard, to replace one of theirs that had worn out.
We spent one afternoon exploring the east side of town, where the big skyscrapers are and the foreign tourists seem to congregate. We passed by the Hard Rock Cafe and a host of places encouraging the coming Spring Breakers to party and drink. We had a lovely dinner in a restaurant called Bambu, with a great view of the whole bay and the picturesque rocks just off the beach there.
A couple of other boats that we ran into in Acapulco included MERRYTHOUGHT, with Mike, Jordan, Dan, and Kelly, stopped with transmission problems and headed south, LAS BRISAS, TEQUILA ROSE, who stayed only a few days, ASTOR, a big schooner that was on a mooring before we got to Acapulco and was still there when we left, and SOUTHERN BELLE, whom we had run into previously in La Cruz and Zihuat. But it was clear that the ranks were thinning out, as we were now at the go-no go point for cruisers that head south.
Finally, after almost 3 weeks in Acapulco, on Sunday afternoon March 8th, we slipped our mooring and left the town for Puerto Marques, the next bay south. It was kind of sad, inasmuch as we had gotten to know and like Acapulco, but it was time to move on.