Breaking and Repairing the Guitar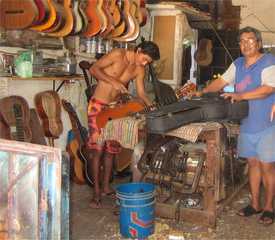 That night, after fixing the windlass, flush with our success at once again being real cruisers as evidenced by repairing our boat in exotic locations, we invited Tony over for dinner and drinks. After a beer or two, and a shot of Tequila, Tony announced that he would go back to his boat and get his favorite rum, Havana Club ("the only rum worth drinking"), and come back over and let us try it.
We had a steak dinner as we all drank beer and rum and I brought the guitar out to play a few tunes. After dinner, the drinking accelerated and after we finished the bottle of rum that Tony had brought, we broke open a fresh bottle of tequila. We were all getting a little tipsy, especially me, I think.
My memory is a little hazy on this, but at one point the boat swayed on a swell as I stumbled and sat down. Unfortunately, where I sat was upon my guitar. On my beautiful and much cherished Martin guitar. Crunch! I think Tony was more upset that anyone, tho I felt close to tears to see the big crack in the face that I had put in this wonderful handmade instrument. And the top had separated from the body too ... sigh. Tony went on about how he knew people that would just die for a Martin guitar and how stupid I had been. Lord knows I could not have felt any worse at that point anyway.
With that one deft move, it looked like we were now going to have to stay in Acapulco another week. Inasmuch as it was Friday night, the best chance of getting the guitar repaired would have to wait until the following week, on Monday. So we spent the weekend recuperating and ruminating over the guitar.
Bright and early on Monday morning, We set out to find a place to get the guitar repaired. We looked in the Marina's yellow pages phone book for the musical instruments stores' locations, and went to the music district of Acapulco. All of the 6 or so music stores in the town are on one street, Ave. Velaquez de Leon, and so we headed there. We went into to a music store called "Lalos", mostly because they had the largest yellow pages ad. The proprietor looked at the Martin and declared that he could do nothing for it, but that he knew someone who might be able to fix it. He phoned them, told us to wait, and someone would come by the store.
About 15 minutes later, a man named Santi came over, picked up the guitar, and led us on foot thru the back streets to a little luthier shop a few blocks away, Guitarras Leobardo Garcia, located at Priv 5 de Mayo 245, Col Centro (7 Esquinas), Telephone: 483-0337. When we got there, Santi made a phone call and then told us that the owner, Senor Garcia, would be by in about 15 minutes to give us a prognosis on the Martin. He went on to explain that the Garcia Family had been making guitars in Acapulco since 1930, and were generally regarded as the best luthiers in town. There were family photos and old newspaper articles on the wall attesting to the history of the family business and we felt pretty sure that we had come to the right place.
When Senor Garcia arrived, he took a look at the Martin and declared that he could fix it, and although it might not look perfect, it would be just fine. He said it would take about 3 days to repair it and refinish the top.
We picked up the repaired guitar on Friday morning, two weeks and two days after we had arrived in Acapulco. It was nicely repaired and refinished, muy reasonable at $45/450 pesos, and you can barely see the crack in the face, so I would recommend Sr. Garcia to anyone needing guitar work in Acapulco.