Overnight at Isla Grande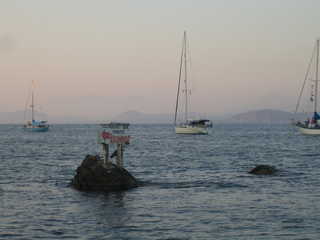 On Monday, February 11th, our destination was Isla Grande, also known as Isla Ixtapa, a small island just off the point of Ixtapa. It's a day trip destination for tourists who are ferried to the half dozen or so restaurants on the island by panga drivers for $3 or $4 a person. We'd also heard there was good snorkeling to be had there.
We put the dinghy away and waited until about 11:00 for a breeze to come up. We weighed the anchor and a few minutes later pulled out the mainsail and unfurled the jib and began sailing on a port tack across the bay. When we got to the far side of the bay, we tacked once and were able to stay on that tack for the 2 hours or so it took us to sail the entire 12 miles to Isla Ixtapa. On the way, we passed CUTTER LOOSE who was also headed over to the island for an overnighter.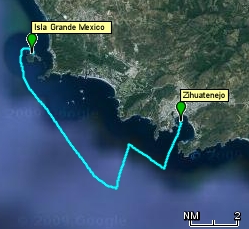 By the time we got the anchor down, had a beer, and did the dinghy drill to go into shore, we realized that it was after 5:00pm and all the restaurants were closing. We walked across the short spit to the other side of the island which had a very pretty reef, and then went up to the only remaining open place and asked if they could serve us some drinks and something to eat. Even tho we were the only remaining customers on the island, as even the workers were making their way to the last remaining pangas to shore, we were graciously served drinks and dinner. That evening we watched a movie on the boat, Stranger than Fiction, with Will Ferrell, which we thought was pretty neat.
The next morning when we awoke, I was still battling a runny nose and scratchy throat, so we thought it would be better to not go snorkeling that day. Instead, we just decided to head back to Zihuat. So once again when the winds came up at about 10-11 am, we pulled up the anchor and sailed back the way we had come. On the way back we cut about 3 miles off of the distance as we cut closer to the land, and I was determined to be seen sailing back into the bay, so was quite pleased when we re-entered Bahia Zihuatanejo wing and wing, with both of RHAPSODY's sails proudly flying.