Snorkeling at Los Gatos and Dinner with Louis and Laura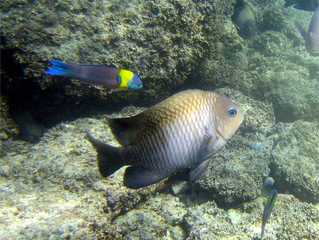 Wednesday morning we stayed on the boat to get some chores done. Specifically we had someone come out and clean RHAPSODY's bottom which had not been done since La Cruz and was really in need of a scrubbing. We also took advantage of the services provided by Ishmael and Hilda, who own a panga and small shop in town, and who make rounds of the boats at anchor every day. It's like room service for boaters! They will take your dirty laundry and get it done in town and return it to the boat, clean and folded, the following day. They also pickup your trash, and will deliver fuel, water, beer, and other grocery items to you on spec. So we gave them some 30 lbs of laundry, our trash, and ordered a couple cases of beer to be delivered to the boat the next day.
We still needed to check in, as Monday and Tuesday had been holidays and the Capitan de Puerto's office had been closed, so on Wednesday afternoon, we gathered up our ships papers, and did the quick and painless process of checking in, and followed that up with some cocktails and dinner in town. We stopped by Jimi's Birthday party, but as I mentioned, we were too tired to hang out until it got into full swing.
On Thursday we had decided to take the Dinghy over to the beach at Los Gatos and do some snorkeling, so after Hilda came by with our Laundry and Provisions, and we had paid her and put everything away, we got into our bathing suits and made the 1.5 mile crossing of Zihuat Bay to the nice beach at Los Gatos. We had a beer at the restaurant where we parked the dinghy, which is the usual custom in order for them to watch it for you while you snorkel. From there we swam off the beach about 50 yards to a reef that runs parallel to the shore.
It was pretty nice snorkeling. The visibility was about 20 ft, and the water was nice and warm. I took a bunch of pictures while snorkeling, some of which are shown here and below. However, after lazily snorkeling around for about 30 minutes, we started to realize that the little brown Damselfish were getting territorial. What at first seemed like curiosity on their part, was quickly revealed to be aggression, as they would swim up to you and literally stare you down with all of their six inches of might! Then we realized that if you hung in one spot for too long, they would start nipping at you. After feeling one of them nibble on my shin, and hastily backpedaling to get away from them, we decided to swim into shore and let them have the reef to themselves.
Thursday night we had an invitation from Louis and Laura, who would be leaving Zihuat on Friday, to come over to their boat for dinner. So, at 6:00 we took the dinghy over to CIRQUE where we were joined by Bernard and Anne from SIMPLE PLEASURES. Louis made some great margaritas and we all chatted as the sun set and the evening unfolded. Someone had given L&L a nice sized Dorado, and it turned out that Bernard was a magician with Sushi, so he used up the last of the wasabi and whipped us up some tasty appetizers from the fresh Dorado. Then Louis BBQ'd filets for everyone and served it with a fresh salad. For dessert, Laura had made a nice lemon cake with chocolate frosting. Mmmmm mmmm mmmm. Everyone enjoyed that meal, for sure!
The next morning, Friday, we said goodbye to Louis and Laura over the radio as we watched CIRQUE pull up anchor and head north. Great new friends and we really hope to run into them again somewhere down the road.