Jamming at Ricks Bar and Paccalo's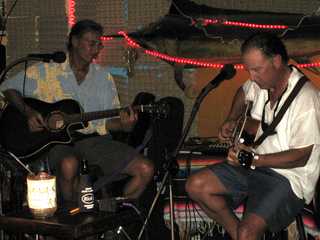 On Fat Tuesday, we went into to town and met Louis and Laura for a nice lunch in one of the many open air restaurants. Tuesday was also the "Puddle Jump" seminar and kickoff party. Most of the cruisers who would be crossing the Pacific Ocean this year gathered at Ricks, with some of the staff from Latitude 38 and other experts on the route giving a slide show and presentation for the intrepid adventurers. Andy Turpin, the senior editor of Latitude 38 was there, and told us he was leaving town the next day.
Andy and I had talked about jamming, him on Banjo & me on Guitar, ever since the start of the Baja-Ha-Ha. Unfortunately, our motor problems in Tortuga Bay had caused RHAPSODY to fall out of the Baja-Ha-Ha, and so the opportunity for us to get together never arose. However, here in Zihuat we finally got a chance to do some tunes together. As the Puddle Jump party was winding down, I convinced Andy to go to his hotel and get his Dobro/Banjo and come back to Rick's to jam with me.
Meanwhile, as Andy split to get his guitar, another guitar player began setting up. I struck up a conversation with him and learned his name was Eric. He told me he works more or less full time getting gigs at the local hotel and restaurants. When I mentioned the Grateful Dead to him, he dropped the fact that Bob Weir had just been at one of the hotels he played at a few nights previously. The management had in fact given Eric the night off so that Bobby and the Midnights could play! In any case, as it turned out, Eric was probably about the best guitar player in town, It became apparent as he worked first thru some popular rock tunes and then started playing great, fast flamenco stuff. I was really impressed. Then he let me get up and sit behind him on bass for a few tunes which was really nice too. He definitely worked the crowd with his professional licks and great vocals.
A hard act to follow, nonetheless, it was great fun when Andy returned with his Dobro/Banjo and Eric let us have the stage to do some tunes. Andy and I traded tunes, me backing him on guitar and then him backing me on the dobro as each of us got to sing three or four tunes and show off some lead work. I was very impressed with Andy's level of playing and happy that we had, after talking about it for nearly 6 months, finally gotten together to play. It was sweet, but short tho, as Andy had to get ready to leave the next morning and could only hang out for an hour or so.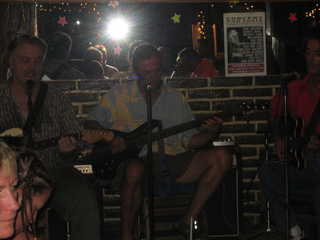 We had also heard about another opportunity to jam at a bar called Paccalo's. Louis, bless his heart, had laid all the groundwork for me, and gotten me an advanced invite to jam with Steve and Ralph there. So when we met a charming Czech guy named Dan at Rick's who told us that he knew Steve and Ralph well and that they would be glad to have me sit in, it was only a short walk over to Paccalo's for that. As we got there, Steve and Ralph were just setting up and getting started, and soon Louis and Laura wandered in with a gaggle of other cruisers and we got a large table going. Steve started playing the bass to Ralph's guitar and they worked thru a selection of snappy popular rock tunes that quickly got the crowd happy and dancing. We all had beers and tequilas and Steve and Ralph invited me up to play bass for the 2nd and 3rd sets. It was, once again, great fun all night long with me punching out the bass lines to a plethora of popular rock standards as Steve switched to rhythm guitar and sang and Ralph played his great lead licks and everyone danced, drank, and had a good time!
Tuesday night ended up with us happily making our way back to RHAPSODY, getting just a little bit wet as we boarded the dinghy, somewhat tipsy, in the shallow waters off the beach.
Wednesday night was local blues celeb(from Grand Coteau,LA!) Jimi Mamou's birthday party. I had talked to him about jamming a bit, and was invited, but we were too tired Wednesday night to hang out long enough as the party was just getting started at 10:00 pm, so I missed my chance to jam with Jimi. Oh well, can't have everything!
I did get another chance to jam on Friday night at Rick's Open Mic night. Although we didn't get any photographs of the sessions, I got to play bass behind almost everyone that got up that night, including the aforementioned Mike from CUTTER LOOSE, a sax player, and a couple of other guitar players whose names I've unfortunately forgotten. Friday night I also got a chance to do a full solo set on Acoustic Guitar, singing a bunch of my usual Grateful Dead tunes, which people seemed to enjoy.