Day 5, Thursday - Day Trip and 2nd Gig/Jam at Piper's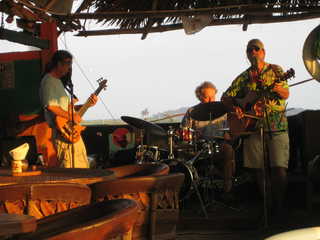 For Thursday night's gig, we had agreed to do the sound check at 6:00, then Bill and Joanne had a 7:00 dinner engagement, after which the band would play. So, we met on the water taxi at 5:00, and were all setup by 6:00. After a few quick tunes to make sure that everything was working ok, Bill, Joanne, Frosty, and Patti split for their dinner engagement. I stayed and did an acoustic solo set to the few patrons at the bar,including longtime campers of MX, Chet & Ruth, then had a burger and fries while waiting to get going.
By 8:00 the crowd was getting bigger, and a little restless. I was also concerned when it turned out that Piper (Daniel) had double booked another band in for the evening. However, they said it wasn't a problem and let us play (apparently they had failed to show up the previous Thursday, so there was some confusion whether or not they were actually booked this night). When Frosty and Bill finally returned at about 8:30, it wasn't a minute too soon, as Blue Agave began banging out blues, people started dancing.
Steve, the guitar player from Tuesday couldn't make it this night, but we got a couple of ladies from the crowd to come up and belt out some tunes. Then, for the third set, probably because we had stole most of the patrons in town, and his gig was therefore devoid of an audience, Ned Neltner, of Seattle's Jr. Cadillac fame, dropped by and played my acoustic guitar, doing some of his trademark blues tunes. Once again, the tequila flowed (how come that always happens?) and everyone had a great time.
And even though we had sworn we would make it an earlier evening, they had a hard time corralling me into loading up the equipment at 3:00 am. Thank goodness for the water taxies which run all night! We got safely back to the boat and on board well before 4:00 am :-)