From Chamela to Bahia Tenacatita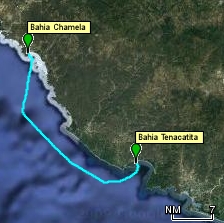 On Wednesday, Jan 16, we got up easy and were underway by about 8:15 for the short 34 nm trip to Bahia Tenacatita. We motored all the way, using the sails only to stabilize the boat against rolling. Along the way we ran the watermaker the whole time, inasmuch as the watermaker creates about 8 gallons of water per hour, we try to run it whenever we are making passages.
We pulled into Tenacatita and had the anchor down by 2:30 p.m. Being curious about our new surroundings, we immediately did the dinghy drill and went onto the beach for a landing near the lone palapa bar there at the lagoon mouth, Boca de Iguana. When we walked up to the bar there were a couple of other cruisers there having beers and chips, so we joined them and asked questions and got hints about the lay of the land.
The return trip was one of the first times we had ever done a departure thru surf in the dinghy. We waded out to waist deep water where the small one to two foot waves were breaking. Then I hopped in and started paddling like mad, but even so, a wave caught the bow, and we shipped about 15 gallons of water. We were drenched but in good spirits when we got back to Rhapsody to dry out, have some beers, and watch the sun set.