Marina Vallarta (yech)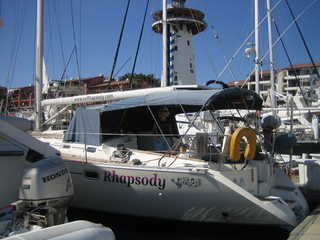 After La Cruz, we booked 3 nights at Marina Vallarta, on the other side of Banderas Bay. We figured that, being closer to downtown PV, the marina would offer us a better opportunity to provision for our continuing trip south. Also it was the only place to get fuel in the bay, so we had to go there, and we wanted to check it out, for completeness, since we had spent over 3 weeks in Marina Riviera Nayarit (La Cruz).
So after checking out with the Capitana de Puerto in La Cruz and paying our final bill at Christian's office, we took RHAPSODY out for the short, 12 nm trip over to MV. We decided to motor all the way, even though there was a pretty nice sailing breeze, because we wanted to test the engine and make sure there were no leaks. The new Heat Exchanger, Exhaust Elbow, and Radiator Cap all worked flawlessly, and two hours later we were pulling into the channel by the huge cruise ships.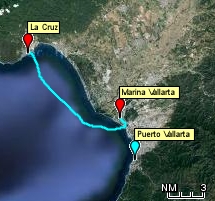 After a little work finding our slip, F23, we got the boat in and tied down, and pretty much immediately were unhappy. I'll admit we were a little depressed at having left La Cruz, but, in all honesty, Marina Vallarta was a dump by comparison. Not only was it like being in a fishbowl, surrounded on three sides by 5 story condonminiums, with no views whatsoever, there was a terrible smell in the air from all the trash, and the water in the harbor, and around the boat was very polluted. Worst of all, there were dead fish all around our boat and the other boats on our dock. I mean, dead decaying halves of fish, garbage bags and empty beer cans floating in the water. It was really smelly, dirty, and disgusting. The docks were decaying, the electrical plugs were dangerously loose and dangling on their wires, and the bathrooms were dirty and old, with just a trickle of lukewarm water coming out of the showers.
The marina was lined with expensive restaurants, and although that should have somewhat mitigated the stay, it really didn't, as we had had better food for less in La Cruz. And as far as provisioning went, it was still over a mile walk to the supermarket, which was hardly better stocked than the small abarrotes (corner grocers) in La Cruz, and certainly less personable. To top it off, since we were staying three days, we had to trek 2 miles over to the Capitana de Puerto, to check in, and then the next day repeat the trek to check out.
Overall, we disliked Marina Vallarta and were very anxious to leave, so on Saturday, January 12th, at 6:00 am, we unhooked our shore power, pulled in our lines, and left.