With PK to the main El Cid & Sabalo Centro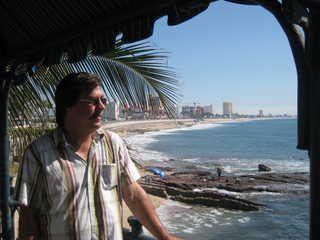 Later in the day on Tuesday, we took our bathing suits and the free shuttle over to the "main" El Cid hotel and went swimming in the pool, had drinks and hors-d'ouvres, and then returned to the marina for a dinner on the boat.
The next day, Wednesday, was PK's only full day in Mazatlan, as he had a plane to catch back to San Diego on Thursday morning, and we had a lot of errands to run, so we combined them all into a full day excursion. From the free shuttle to the main hotel, we walked all over town. We went to a bank where I had to deposit some money for the fuel bill in La Paz which I had somehow managed to slip out without paying, PK tried unsuccessfully to exchange an Argentinian $1000 peso note and we spent some time in a "shell" shop (curious) shopping for gifts.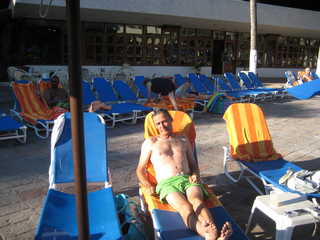 I then dragged the crew (still on foot) all over town in search of a high-powered wi-fi card with an external antenna. From Valentino's disco (already about a 2 mile walk), we walked a good mile to Sam's Club, where I had heard from another cruiser on the VHF that I might find a USB dongle with an external jack, but apparently they were sold out. Then another mile to Office Depot (note the prevalence of U.S. companies in Mazatlan) which also did not have anything. Finally, also based on info from cruisers we had met, we wandered into this small Electronics store, where, lo and behold, they had a card with an external jack, and could get me any one of a variety of external antennas the next day! I was really pleased with the service that we got from Jorge at Radio Communications de Mazatlan, and once I hooked up the new card and antenna, could easily get the wi-fi from anywhere in the marina (beats the heck out of the built-in antenna on my laptop)!
Finally, at 4:00 pm, after walking a good 5 miles, we took our first "pulmonia" (spanish for "pneumonia", the name of an open air cab based on a Volkswagen beetle) back to the hotel where PK treated us to a nice going away dinner.
The next morning PK departed. He got up early and packed, and after some baleful goodbyes, made his way to the airport, ending this part of his journey with us on Rhapsody.