Baja-Ha-Ha Kickoff Party at West Marine in San Diego
On Sunday, October 28, the day before the start of the 2007 Baja Ha Ha rally, there was a skippers meeting and kickoff party to be held at the West Marine in San Diego. The night before we had sold our last vehicle (the beloved Nissan Pickup), so we caught a ride over to West Marine with Gary and Dorothy from WANDRIN STAR, who would return their rental car later that night.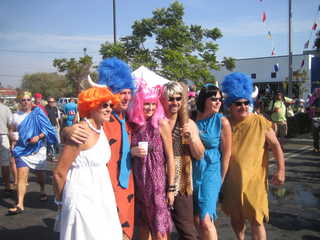 I attended the skippers meeting at 10:00 am, where the Grand Poobah took a roll call and briefed us all on the rules, regulations, guidelines, and common sense items for the trip. Then at 1:00pm they held a combination Halloween Costume Party and Kickoff bash for all of the Baja Ha Ha-ers (try saying that drunk!).
Just before the party started, our third crew member, Steve Whittlesy arrived. His girlfriend Gabby brought him up to San Diego from Tijuana so he would not have to worry about parking a car for two weeks. We also got to meet his good friend Juan, who had been sailing a bunch with Steve. We attended the party to the degree that we had a bite to eat and a beer or two, and enjoyed seeing the wacky costumes (particularly those of our dockmates from INCAHOOTS who dressed up as the whole Flinstones family), chatting with the other boaters and so on, but were all eager to get back to Rhapsody to get Steve settled in and do any final preparations before our departure, so we left the party at about 2:30, taking advantage of Gabby's hospitality (and vehicle) to drive us back to the Marina.
We were proud and happy when Gabby and Juan asked to see RHAPSODY, so we showed them around the boat, and then they left for TJ. Steve got settled in, we had a nice dinner and chatted about the upcoming adventure. It was hard to believe it, but all the months of preparation, renting out the house, selling all our cars and most of our other possesions, changing our whole lives really, was finally coming to a culmination ... it was almost a surreal fealing ... this was it, we were really going on the adventure of Rhapsody to Central America!