Catalina SeaTrial 1 - SD to Avalon - 93.7NM, 2 hours sailing, 12.5 hours motoring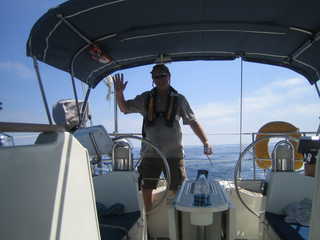 It was finally time to take Rhapsody on a longer Sea Trial, so we made plans to sail up to Catalina Island and shake her out a bit. We were fortunate to be joined by our friend Steve Whittlesey whom I had first met when taking my ASA 103/104 sailing class two years ago. Steve will be joining us in November on the Baja-Ha-Ha, sailing from San Diego to Cabo San Lucas, and so we thought it would be a good idea for him to get a chance to spend a little time on Rhapsody before heading out for the more major 2 week, 800 mile trip that's coming up.
Steve joined us the night before (Friday night) and was able to get settled in and spend a night on the boat, in the marina, before we departed. We set the alarm clock for 5:00 am, so as to allow plenty of time to make it to Catalina before it got really dark. Everyone was up and having coffee by 5:20, and at 5:40 am on Saturday, we slipped our lines and made our way out of the marina in the dark of early morning.
Although it was clear outside, the dodger was wet and foggy and hard to see thru so, in addition to the Radar, everyone kept watch on deck as we made our way out of the bay. Outside the bay, we made the turn at Buoy #1 and set our course towards the east end of San Clemente Island. Unfortunately, there was no wind, so we motored as the sun rose and the day unfolded.
About 11:00 a.m. we were contacted on VHF by "Warship 1" and asked "what are your intentions?". I told them we would be maintaining course and speed and they said they would ensure a safe passing space, which they did. Apart from that, and a few dolphin sightings not much happened on the way to Avalon.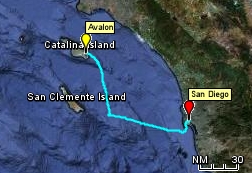 Around 2:00 pm the wind finally came up enough to do a little sailing, and for a while we almost had the starboard rail in the water as we heeled over at 8 knots in about 18 knots of wind. But then as we approached Catalina, the wind died, and we ended up motoring the last hour or so to Avalon.
When we got to Avalon about 6:30 pm we were disappointed to find that there were no moorings available in the harbor. We motored around Descanso Cove a bit looking for a place to drop the hook, but the water was all 125 ft or more deep ... and we only have 360 ft of anchor chain ... so we would not have enough "scope" to anchor. After a while a harbor patrol boat came by and told us that there was ONE mooring left ... a "swing" mooring (a single ball instead of a fore-aft mooring like in the harbor). It was getting dark, and we were tired, so we jumped at the chance.
We had no problem picking up the mooring and soon we were having our "tots" and beers, and I even broke the guitar out and we sang a few songs while we started the BBQ and cooked us a nice steak dinner. However, as we were getting ready for bed around 10:00 pm, we heard the loud "BUMP" as Rhapsody drifted over to the mooring ball (about 5 ft in diameter, metal, and covered with barnacles). Steve and I tried various solutions to keep us away from the ball, but it was a problem all night long, as I was awakened at 2:00 am by the loud bumping again. We also discovered that when the sea lapped up against the stern, there was a similar loud noise produced in the aft cabin, so I don't think Steve rested too well that night, either.