Sightseeing Monterey and the Aquarium
We spent three days in Monterey and had a chance to do a bit of Sightseeing. We took the free trolley to downtown Monterey and checked out the Courthouse, some of the historic buildings, and Fisherman's Wharf.
Back at Cannery Row we stopped by Kalisa's where I had worked part time while going to high school in Salinas, but Kalisa was out and not expected back while we were in town, so we didn't get to visit with her on this trip. But we had a good time anyway, visiting the haunts of John Steinbeck and Doc Ricketts along Cannery Row, stopping in some of the souvenier shops, and in general, just mozying around.
The Monterey Aquarium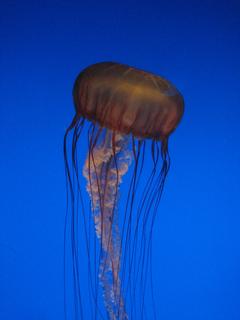 We set aside a whole day for the Monterey Aquarium which we had heard was wonderful, and we weren't dissapointed! There were innumerable exhibits and we even had a nice elegant lunch at the restaurant inside. Perhaps the pictures best tell the story!
We spent the last day in Monterey preparing Mandala for the long trip down the coast, getting fuel, filling up the water tanks, buying some groceries, and charging all the batteries for our cameras, computers, and so on. It's a very long trip and we did all we could to be prepared before departing Monterey.