over to Pier 40 with Matt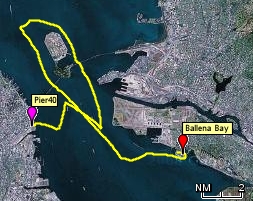 From Ballena Isle, we decided to move the boat over to South Beach Harbor at Pier 40 for the 4th of July, but not before we did a little sailing. So after making reservations over the phone and taking showers, Matt joined us as we set out at about 10:30 a.m. Today I decided to put a reef in the sail as we had gotten blown about a bit during our previous daysail and there was still a small craft advisory for the bay with winds expected in the 15-25 knot range.
It was a nice lazy sail outside of Oakland and, as expected, once we crossed under the Bay Bridge and got into the slot the winds picked up considerably and we were happy to have the reef in, still making 7-8 knots on a beam reach. We sailed up towards Angel Island, then gybed (intentionally!) around the north end of Treasure Island. On the back side of Treasure Island the winds relented a little, and we took note of the calm of Clipper Cove where we intend to spend a few nights in the future.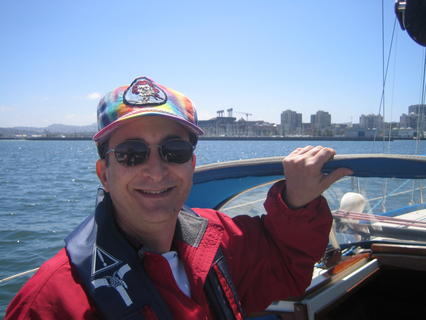 We also got some close up views of the work in progress on the new east end of the Oakland Bay Bridge which is under construction. From there it was about 5 miles over to Pier 40 and South Beach Harbor which we achieved by beating across the channel on three tacks. Even tho the wind was blowing about 10-15 knots directly on our beam as we docked, we still managed to do a nice job of it, arriving in slip number A5 around 2:30 p.m. just in time to meet some friends who were joining us for a barbeque and evening sail to see the fireworks.