Coronado Islands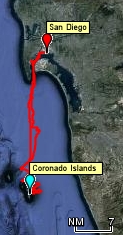 We had an interesting sail this last Saturday.
We planned to sail out of the bay and to the Coronado Islands, about 15nm south of San Diego, where we would anchor for the night.
The Coronado Islands have always intrigued me. There they sit, just a few hours away, and yet, belonging to Mexico, in a foreign country. They are not to be confused with Coronado Island (singular), part of the city of San Diego with the the famous Hotel Del Coronado. The Coronado Islands are three small islands, across the border, yet still within sight of the beaches of San Diego.
So we set sail at about 11:00 a.m. with the idea of anchoring at Puerto Cueva, on the eastern side of the South Island. The weather was slightly overcast, but there was a nice breeze blowing, so before we knew it, we had the mainsail up and were making 8 knots out of San Diego Bay. bay.
As were making our way out of the bay, we found ourselves in the midst of a regatta that was heading north to La Jolla. Had it not been for the fact that we were headed south, we probably would have done pretty well in the race! We were keeping up with the racing boats until we had to turn. The wind was brisk and the even the GPS, which is more accurate than the boat's knot meter, showed us as making 8 knots!
We enjoyed the sail greatly as the wind held up and we did not have to change tacks until well across the border and into Mexican waters. In spite of, our should I say because of, the good sailing, we were having so much fun that we forgot to take any pictures!
Along the way I believe I saw two Risso's dolphins, which, at about 10-12 feet, are much larger than the dolphins we usually see. The ones I saw had a distinctive curved grey and white dorsal fin, reminiscent of an Orca, and they swam by only about 20 feet from the boat. Unfortunately, my crewmate was making lunch, so she didn't get to see them.
Once we got to our goal of the South Island, around 3:30 p.m. we swept in closer to shore to examine the anchorage. It wasn't much. Even though Puerto Cueva is on the east side of the island, owing to the island's shape, it was nearly totally exposed to the north swell and wind, so if we chose to stay there it would be a pretty rocky night. Plus there was a tugboat and barge with lines between right in the middle of the best part of the anchorage. And they looked like they weren't going to leave.
So after a couple of sweeps thru the anchorage, we decided that we didn't really want to stay there. So we turned around and began tacking our way back to San Diego. And this is when the trip got genuinely interesting. We started back around 4:30 p.m., and usually this is about when the wind dies. But lo and behold to our amazement and pleasure, the wind just kept blowing, so we were able to get a taste of our first night sailing.
It was a moonless, overcast night, so it was pretty dark. But there we were, sailing, and making good time, still averaging 4-6 knots as we splashed thru the water in the dark. It was after 10:00 p.m. when we reached the bay and finally put the sail down, making for over 3 hours of honest to goodness ocean night sailing, and a total of over 11 hours of good winds, which are almost unheard sailing conditions around here at this time of year!
So we were pretty pleased as we made the mandatory stop at the Shelter Island Customs Dock to clear back into the U.S. You see, even though you are not allowed to step foot on the islands, as they are a protected nature reserve, the very act of sailing near them means that you have left U.S. waters and are thus obligated to clear customs upon your return. Failing to do so means upto a $5000.00 fine and/or a year in jail, so we were very sure to follow the procedure upon our return.
We docked at Shelter Island, and then used a special phone to call the Harbor Police who told us to wait until agents made their way over from Harbor Island (about 5 miles away). So we started cooking a little dinner, and about 20 minutes after calling, two very nice agents showed up, checked our paperwork, gave the boat a cursory look to make sure that we weren't smuggling illegal aliens, and then let us go.
We finished cooking and eating our dinner and after another 45 minutes of motoring and docking back in our slip, putting the canvas on and settling Mandala in for the night, we were finally ready for bed around 12:30 a.m. Boy were we tuckered out! But we were quite satisfied with the trip, and even though we didn't get to anchor overnight, we did get in some good night sailing which we'd been talking about doing, and which we really enjoyed when we finally got a chance to try it.
So all in all the trip was a success, and we've already decided to go back down to the Coronado Islands another time. Next time perhaps we'll have the guts to actually anchor overnight!