First Catalina Trip - Avalon Harbor back to Dana Point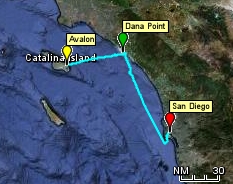 Still worried about the impending "storm", we cut out early, at 6:00 a.m. the next morning. We motored about halfway back to Dana Point before the wind started kicking up and a light mist fell, so we put up the jib for the first time on the trip. We made a good 7.5 knots at some times, sailing for about 3 hours on the way back to Dana Point. Finally, it started getting wetter and the wind stopped, so we motored into the harbor, got a slip and hunkered down for the night. That night it rained a bit, and was quite windy so we just stayed on the boat and had some home cooked food (Dinty Moore lol).
We spent all day Sunday in Dana Point as there was now a Small Craft Advisory and we didn't want to sail home in high seas. We visited the Ocean Institute and saw it's many exhibits and aquariums. We toured the Tall Ship, the Pilgrim, which was a replica (made in 1943) of the 1800's Brig that carried Henry Dana from Boston to San Fransisco in the day. We walked the harbor and came back to the boat for another bar-b-que, hamburgers this time. I strummed a little guitar as we sat in the boat that night.