First Catalina Trip - San Diego to Dana Point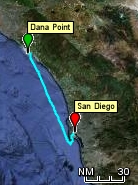 With winter vacation drawing to a close, we watched the weather every day looking for an opportunity to take the boat to Catalina Island and points north. Finally on Jan 10th, the weather report looked benign for the forseeable future. We went out for a day sail with CJ and our neighbor Kevin, had a nice dinner with Steve Dexter at Fiddler's Green on Shelter Island, and prepared to sail out the next day.
Wednesday - To Dana Point
We woke at 4:30 a.m. and were "on the road" by 5:00. I figured it would take nearly 12 hours to cover the 65 miles to Dana Point, and we wanted to make sure we got in to the harbor with some daylight, so we motored out very early. As we left, a Princess Cruise Liner passed us in the dark, lit like a huge Christmas tree. It was clear and there was no wind as the sun rose over calm seas and we made the turn at Point Loma. We saw the plume of a whale 2-300 yards away and got a small glimpse of his tail near the mouth of the San Diego Bay main channel.
We motored all day as there was never enough wind to sail, and what little there was was directly on our nose. We saw a few dolphins along the way, but otherwise the trip up was pretty uneventful. We called the Marina as we pulled into the harbor around 4:00 p.m. and they gave us a guest slip for the night. We pulled in, tied the boat up had a quick look around Dana Point. We still had some reservations about going to Catalina given the fact that there was now a change in the weather forecast, and they were looking for a storm to pass thru on Saturday, which might crimp our return trip.