San Diego Bay w/Tim (Boneman) and Janice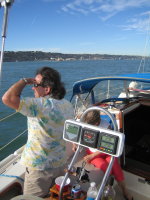 There had been some bad weather over the New Years Holiday, so when a few days later the weather turned bright and sunny, I was itching to get back on the water. I called a friend, Tim, who said he was planning to take his motor boat out anyway and would be pleased to join us for a sail around the bay with his girlfriend Janice, so we all got together on Mandala for a short trip.
Tim and Janice have spent a lot of time on the water, and so were very relaxed with the whole thing. It wasn't long before they brought out a bottle of wine and some snacks and we had a lovely time just sailing out to the ocean for a quick peak around the point. We chatted about their many trips to Catalina and Tim's diving experiences in the coves around there, and made loose plans to get together on the island sometime during the summer.
As the Nimitz was leaving, we had to decide if we could cross the bay to get to the good side for the sail back in, and the patrol boat came up and said we could do it, if we did it right away. However, the wind was not right for a tack directly across the channel, and after attempting the turn, we had to fall off and head back the way we came, on the south side of the bay, which then meant we would have to tack a few times to get back home.
Then, before we could get back into the rythmn of sailing, a Coast Guard boat came up and asked us if we had ever been boarded by them before. We said no and so we got a free safety inspection. They had had a busy week over New Years, with the storm, and so, it seemed like, with the sun shining, and being such a nice day, they were more or less out just enjoying it like us. We motored in a straight line and Tim brought in the jib, while they expertly brought their boat alongside so that two of them could step over for the inspection.
After about 15 minutes of looking at papers, heads, safety equipment and so on, the only comment they had was that our hand-held flares were expired and they'd let us slide if we promised to replace them (which I did). Then they gave us a clean ticket and went on their way. We motored the rest of the way in, put the mainsail down, and had Janice back to the dock in plenty of time for an appointment she had to keep.